Edited to add: To bring myself into line with the other online auctions, I will now be ending the auction for my skirt at 9pm Monday 24th January (local Brisbane time), rather than midnight. As many of us moderate comments, this change means that we can update and keep current any late bidding, without the necessity to stay glued to the computer until midnight. ;) At 9pm, I will announce the successful bidder!
Over the last week, the world has watched as devastating floods engulfed much of our beautiful state of Queensland. Lives and homes have been so sadly lost, but one consolation to have come about, in the wake of all the flooding, is the willingness and tirelessness of people to provide support to those in need. Recent images of people helping complete strangers in Brisbane's affected suburbs can't help but give us all an increased faith in the human race.
As with all natural disasters the clean-up has begun and people all over Brisbane and Queensland desperately need help. Toni Coward, the Australian designer behind Make It Perfect patterns has launched the Queensland Flood Appeal with her sister Carli.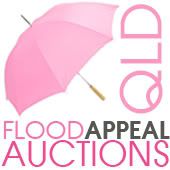 As a contribution towards this Appeal, I am holding an auction on this blog for the skirt below:
This is a double layer twirl skirt made from 100% cotton fabrics by designer Heather Bailey. The underskirt provides added body and twirl and the skirt features lovely trim detail with an elastic waist for comfort and ease of dressing. In gorgeous sunshine shades, it is sure to brighten up any little girl's wardrobe. It is a
generous size 6 (so will also fit a small size 8).
Waist measurement is 58cm (23 inches) unstretched and length from waist to base of skirt is 46cm (18 inches). This item is brand new, lovingly hand made and has not been offered for sale before. On my website, this skirt would have a retail price of $40.
This auction is open to everyone - I will pay postage to anywhere in the world for this item. Payment is by donation to the Premier's Flood Relief Appeal - for details on how to donate, please visit the website. This is SUCH a worthwhile cause - please donate generously, especially as your postage will be FREE!!!!
How this auction works:
1. Bidding will start at $30 (Australian).
2. You can place a bid by leaving a comment on this blog post with your bid amount and email address. Please ensure that your bid is higher than the previous bidder.
3. Your bid must be in whole dollar increments.
4. This auction is open to everyone. Postage to anywhere in the world is FREE.
5. This auction begins NOW and will END at midnight on Monday 24th January 2011 (Brisbane time).
6. At the close of the auction, I will contact the winner (please ensure your bid comment includes your email address). The winner will pay the winning amount directly into the Premier's Flood Relief Appeal and send me proof of payment via email. Once proof of payment has been received, I will post the skirt to you.
7. Thank you for participating in this auction - happy bidding!!